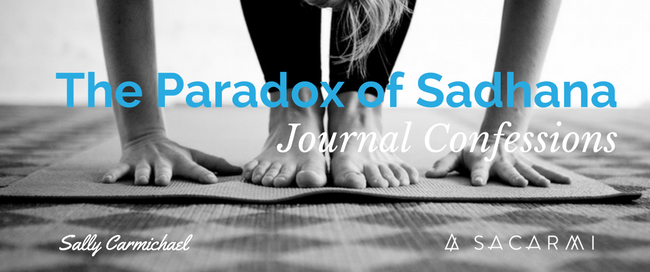 I was teaching my Wednesday night Kundalini Yoga class and found myself recounting a story of my first sadhana practice and a significant event that happened towards the end of it. All this in response to several students beginning their own daily practice at home. So I was inspired to go back and read what my experiences were at that time when I too was starting, and so… Journal Confessions from my first ever Sadhana Practice.
"I am 10 days into my sadhana practice and the Nabhi Kriya.
I notice positive things like, my body is more toned, my legs are more evenly balanced in strength and sensation. I have been able to overcome the inertia of not wanting to get up early. I have been able to find a creative solution to doing japji, tuning in, kriya, mantras in limited time of 90 mins by playing the mantras while I do the kriya. This leaves me able to chant directly the last one and Ek Ong Kars but not the others as I am busy breathing during the exercises.
I am aware I have an aversion to the mantras, which may be why I am so thrilled I have so little time and have a good excuse to combine them with movement. The resistance is showing as boredom and the cancelling out moments.
The last few days I have noticed a general increase in boredom and grumpiness. Some kind of disappointment trying to convince me there's no point etc.
I am aware things are being stirred up and right now all I can do is observe and feel as things happen and as patterns begin to be revealed. All my patterns are surfacing and feels a little difficult.
General boredom is one expression of it.
Daydreaming as I do it, going through the motions.
Disappointment there's no epiphany.
The consistent expectation on my part over and above the results and effects. I seem geared to perpetually want, desire and expect things to be different than they are.
So no lights and lovely feelings, just experiencing the challenge of my mind, my tiredness and experiencing the extreme self-limiting beliefs about me in this world.
So I can acknowledge this is as it is exactly meant to be and on another level I am still not happy about it! I seem deeply committed to not being happy about it or looking for the ways it isn't good or nice or useful, I am programmed to seek out the obstacles, see the gaps… right now I am telling myself this is a good trait particularly now it is being balanced out by a commitment to my personal practice.
The practice it turns out is the practice, nothing more complicated than that. Things emerge like a planted seed growing in earth, gestating and pushing down to root before it can push up through the earth. Things will happen in their own time I see with this practice, I'm not saying I have nothing to do with the process but on one level getting out of my own way by simply doing the practice is all I need to do. The other stuff will float to the surface as it comes and all the while as the seed takes root and form develops it will reflect in how I am in the world and how I am to myself.
Weirdly there is nothing to do…
There's only doing sadhana; but no trying to change myself, no self berating, no trying to restructure, no thinking about lots of things. Just the sadhana, that's it.
My noodle gets in a noodle about that. Cos monkey mind loves having something to do!"
So want to work on your third chakra, feel the urge to see what happens to you over a 40 day practice at the same time each day? What is the Nabhi Kriya anyway?
Here's one way to find out… 😉