SCHEDULE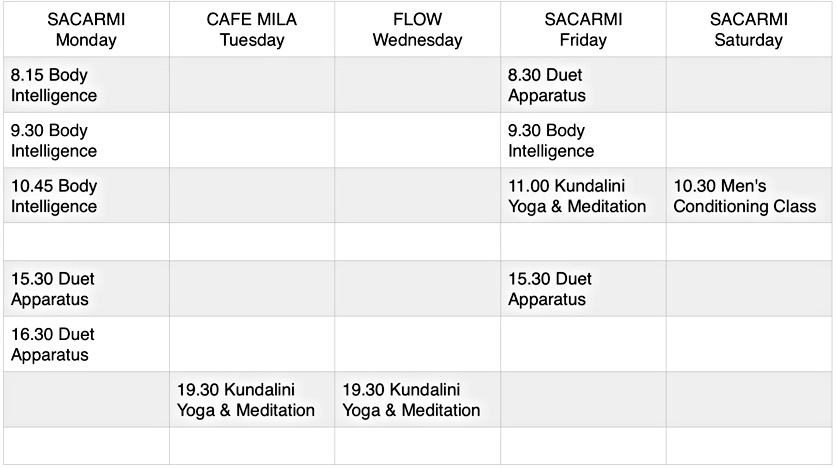 Booking System for Kundalini Yoga & Meditation at Cafe Mila –
LOCATIONS & PRICES
SACARMI
is located at Follies Farm, High Street Green, Chiddingfold, Surrey GU8 4YB
Body Intelligence Classes are booked and paid as a term course apart from private sessions and Kundalini Yoga Classes. For more information on this term's fees please contact me directly. Term Times for Spring 2017 are:
9th January – 3rd April and the Half Term 13th Feb – 17th Feb
Kundalini Yoga Classes are £18 per 90 mins class or you can buy an Intro Pack of 3 classes for £45.
CAFE MILA
 is located at 1 Angel Court, Godalming, Surrey GU7 1DT
Kundalini Yoga Classes can be booked in advance individually £14 or through a class pass or intro package £30 via http://cafemila.co.uk or paid cash on the night
FLOW
 is located at 29 Woodbury Park Rd, Tunbridge Wells TN4 9NQ
Wednesday Kundalini Yoga Classes are booked in advance individually £18 or as a block of 5 works out as £16 each class via http://flowtunbridgewells.com